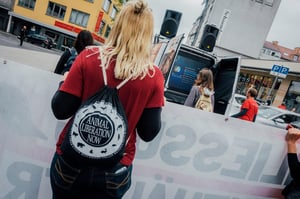 €

12.00 - On Sale
Turnbeutel mit dem Motiv "Animal Liberation Now".
Bio, fair und tierversuchsfrei.
Farbe: Schwarz. Weißer Aufdruck.
50% des Gewinns eines jeden verkauften Artikels werden Organisationen der Tierrechts- und Tierbefreiungsbewegung gespendet.
*Da nicht jedermensch über ein paypal-Konto verfügt, akzeptieren wir auch Banküberweisungen. Schreibt uns einfach eine Mitteilung.
Screenprinted design of "Animal Liberation Now" on a gymbag.
Organic, fairtrade and crueltyfree.
Color: black. White print.
50% of all proceeds are donated to the Animal Rights/Liberation movement.
*Optionally we accept banktransfers if you do not have a paypal-account. For more information shoot us a message.
Image: Christian Adam / @dieaugenderanderen